"I wanna glide down over Mulholland, I want to write her name in the sky.
I wanna free fall out into nothin'. Gonna leave this world for awhile." 
1:35 PM PT — Sources tell us at 10:30 Monday morning a chaplain was called to Tom's hospital room. We're told the family has a "do not resuscitate" order on Tom. The singer is not expected to live through the day, but he's still clinging to life. A CBS report that the LAPD confirmed the singer's death is inaccurate — the L.A. County Sheriff's Dept. handled the emergency.
The legendary musician suffered a full cardiac arrest and was found unconscious and not breathing in his Malibu home Sunday night. He was taken to UCLA Santa Monica Hospital and put on life support, reports TMZ. 
TMZ reported Monday afternoon that Petty had no brain activity and was taken off life support. Petty was officially pronounced dead at 8:40PM PST. His manager said he passed peacefully "surrounded by family, his bandmates and friends."
"Music is probably the only real magic I have encountered in my life. There's not some trick involved with it. It's pure, and it's real. It moves, it heals, it communicates, and does all these incredible things." ~ Tom Petty
According to Rolling Stone:
Tom Petty and the Heartbreakers recently completed a summer tour last Monday with three nights at the Hollywood Bowl. The trek marked the band's 40th anniversary and found him playing rarely played deep cuts like their first album's opener, "Rockin' Around (With You)," and a selection of Wildflowers cuts. It was intended to be his "last trip around the country." He told Rolling Stone, though, that it wasn't his intention to quit playing. "I need something to do, or I tend to be a nuisance around the house," he said.
According to Wikipedia:
Thomas Earl Petty was born and raised in Gainesville, Florida, and attended Gainesville High School. At the age of 17, Petty dropped out of high school in order to join the band Mudcrutch. He never returned to school, besides working with the grounds crew at the University of Florida in his home town in Gainesville. His interest in rock and roll music began at age ten when he met Elvis Presley. In the summer of 1961, his uncle was working on the set of Presley's film Follow That Dream in nearby Ocala, and invited Petty to come down and watch the shoot. He instantly became an Elvis Presley fan, and when he returned that Saturday, he was greeted by his friend Keith Harben, and soon traded his Wham-O slingshot for a collection of Elvis 45s.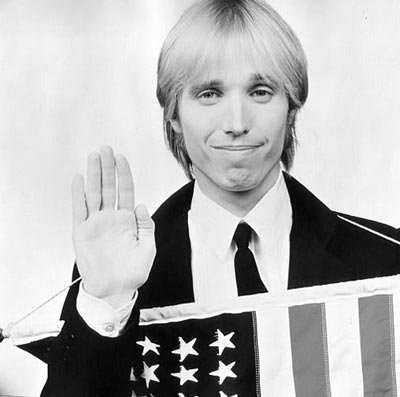 In a 2006 interview on the National Public Radio program Fresh Air, Petty said that he knew he wanted to be in a band the moment he saw the Beatles on The Ed Sullivan Show. "The minute I saw the Beatles on the Ed Sullivan Show — and it's true of thousands of guys — there was the way out. There was the way to do it. You get your friends and you're a self-contained unit. And you make the music. And it looked like so much fun. It was something I identified with. I had never been hugely into sports. … I had been a big fan of Elvis. But I really saw in the Beatles that here's something I could do. I knew I could do it. It wasn't long before there were groups springing up in garages all over the place."
One of his first guitar teachers was Don Felder, a fellow Gainesville resident, who would later join the Eagles. As a young man, Petty worked briefly on the grounds crew for the University of Florida, but never attended as a student. An Ogeechee lime tree that he planted while employed at the university is now called the Tom Petty tree (Petty has stated that he does not recall planting any trees). He also worked briefly as a gravedigger.
Petty also overcame a difficult relationship with his father, who found it hard to accept that his son was "a mild-mannered kid who was interested in the arts" and subjected him to verbal and physical abuse on a regular basis. Petty was extremely close to his mother, and remains close to his brother, Bruce.
Damn the Torpedoes is the third album by Tom Petty and the Heartbreakers, released in late 1979. This was the first of three Petty albums originally released by the Backstreet Records label, distributed by MCA Records. It built on the commercial success and critical acclaim of his two previous albums and reached #2 on the Billboard album chart. The album went on to become certified Triple Platinum by the Recording Industry Association of America (RIAA). In 2003, the album was ranked number 313 on Rolling Stone magazine's list of the 500 greatest albums of all time.